What are you trying to accomplish? Your aspirational, big picture that will move the needle.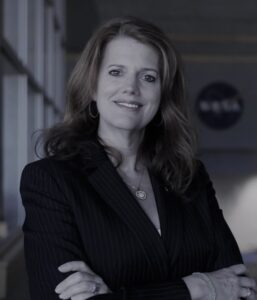 Charlie Blackwell-Thompson
Charlie Blackwell-Thompson is the Launch Director for NASA's Exploration Ground Systems Program. She is the first female launch director at NASA and is leading the launch for Artemis, the mission to get back to the moon. Charlie is a Computer Engineer.
"We are going to the moon, this time in a very sustainable way and it is with commercial and international partners so when we talk about going for humanity, it really is."
"I'm really proud to be a part of American space program, and when I say it's an American space program it really is.  We have this vehicle right outside my window, ARTEMIS one.  All of the States in our wonderful great nation are represented, in the ground or on the flight systems, and so, when we talk about America's rocket and we talk about America space program it really truly is that."
3-Bullet Summary:
Break your mission into smaller, achievable steps.

A leader's communication skills play an important role in every successful mission.

Sometimes you'll have to change direction as part of your mission.
Podcast Quotables:
"To me, mission answers the big questions of who we are, what we are about."
"I knew as soon as I walked in that room that I wanted to work here, I wanted to get a seat in that room, and so I had that moment where there was no doubt for me."
"There are no unimportant roles as we get ready for launch, every role is important, every job is important."